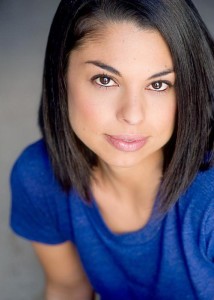 Tania Verafield (The Queen) began her career as a Ford model at age 10.  Tania made her feature film debut in 2005 opposite Christian Bale in Harsh Times, the directorial debut of David Ayer, screenwriter of Academy Award-winning Training Day. Since then, she has had the pleasure of playing opposite Tilda Swinton in the foreign film Julia, getting in touch with her comedy side in The First Time and has appeared in two Sundance Film Festival films – Short Term 12 (Winner Best Short 2009) & I Am Not A Hipster (currently available on Hulu). Television credits include 24, The Ghost Whisperer, Standoff, and Strong Medicine.  Theatre credits include Lobby Hero, The Little Dog Laughed (NY) & originating the role of Bug in the now published Treefall (LA).  Currently, Tania resides in her hometown Los Angeles and is plotting her bi-coastal future.
How did you get involved in modeling? Do you still model? If not, what made you transition from modeling to acting?
As a child, I wanted to act.  My parents didn't have the means to make that a reality but when we were approached by an agent in an elevator, he recommended starting with modeling to test the waters.  I signed with Ford & did a couple print jobs before my parents realized I was much more excited to be acting (which I had started doing in community theatre & school plays) and the modeling just tapered off.
What do you consider your "big break" into acting? Was it making a movie with an A-lister like Christian Bale? Was it tackling a specific role?
I don't think I've had it yet!  Actually, "Harsh Times" opposite Christian Bale was my first film role & it definitely felt like a break at the time.  Christian had just finished shooting Batman so he wasn't a household name yet but we all knew he was about to be.   For me, that project also meant tackling a very specific role so that felt like a coup as well.  Each job feels like a tiny break & then you hope they all add up to something of a "big break" – I am still working on my "little breaks".  🙂
You've done drama and comedy. What is your preference? What is a role you'd love to play? Who is someone you'd love to work with – actor, writer, director, all of the above?
I really enjoy the depth of work that comes with dramatic roles – just getting to play in these dark worlds & then leaving them behind to go back to my real life.  However, as anyone who has seen me with my little siblings can attest, I love to make people laugh.  I don't think I have a preference – my favorite roles are those that are dramatic & have that tinge of humor (be it dark, embarrassing or just silly) – that is just like life in my opinion & I believe the best pieces hold a mirror up to real life.  I'd love to play a seemingly strong, confident, intelligent female role – something of a badass be it physical in nature or career-wise but who lacks that key to holding her personal life together, someone broken on the inside.  I'd love to work with Sofia Coppola, Claire Danes, Richard Linklater – there are so many people I want to work with!
You've done film, TV, and theatre. What is your preference? How do you decide what project to tackle?
Theatre is something I have done since I was a little girl – it feels like home to me.  As I've gotten older, I've transitioned into TV & film as well & now feel strongly that I must continue working in all 3.  Ideally, I would love to be on a series, do films during hiatus & squeeze in a play at least twice a year.  I take the roles that move me, that I'm passionate about or that will challenge me the most.  Right now, I'm learning to speak Urdu to play a Pakistani girl – the role isn't large but I was excited about testing my language skills.
What does a day-in-the-life of Tania Verafield look like?
Hectic fun!  No, really, I'm a simple girl.  I was born & raised in a small town part of LA, where I'm living now, so my days are full of seeing my local mailman, coffee shop barista, etc., all of whom have known me since I was a child.  I spend a great deal of time with my family (especially my kid siblings) and all my childhood friends – I am so grateful that my career is pursuable in the city I grew up in.  I run around going to acting class, auditions, rehearsals & always make time to be outdoors with my dog – we love the LA weather!
What is something fun or surprising about you that is not in your bio?
As a result of tremendous divorce & remarriage, I am one of 8 siblings – we are all half or step but I consider each of them family.  I wouldn't change my blended family for the world – I am blessed to have so many incredible people in my life.
What's next for you?
I am currently in the show "Suburbia" at Pacific Resident Theatre in Venice, CA (http://www.pacificresidenttheatre.com/suburbia/) running the month of June.  I am looking forward to the episodic TV season starting up after that & seeing what's in the cards for me.
How can people keep in touch and learn about your next projects?
Check out my website www.tania-verafield.com.  I am not the greatest at updating it, but this will inspire me to!