DAN CHEN co-stars with our own Bruce Faulk in an upcoming episode of Memorable Minorities.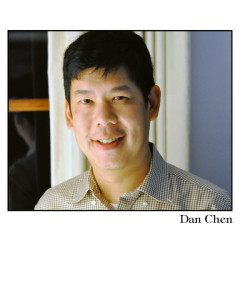 Best known for his work as an actor, Dan has guest-starred on television in the hit HBO series "The Sopranos;" "Third Watch" (alongside Bobby Cannavale and Kim Raver); and opposite rap and hip hop stars Fabolous and Red Café in the music video for "Tonight." He also played the lead in the official music video for Moby's hit song "The Right Thing" featuring Inyang Bassey; and was the Chair Umpire in the music promo ("Sean Price Plays Tennis") for underground rapper Sean Price's album "Mic Tyson". Film credits include: the title role in THE FORTUNE WRITER by Eric Gross (winner, Best Dramatic Short at the LES* Film Festival); Zeyen in ZEYEN AND NAZIA (which won Best Undergraduate Film at the inaugural Greater Philadelphia Student Film Festival); and an unlikely demon in the horror/comedy feature HELLBENDERS (in 3-D) by JT Petty, which premiered at the 2012 Toronto International Film Festival. Stage work includes regional theatre performances in August Strindberg's Miss Julie; Neil LaBute's Bench Seat (from Autobahn); and Arthur Miller's A View From The Bridge (directed by Tony Award winner Michael Mayer).
As a playwright, Dan has been represented in New York, Chicago, and Los Angeles with his Strangers Till Now trilogy of plays (Dick and Jane, Yes Before Goodbye, and Dear in Headlights). His play Road Test was featured as a focal piece at the Mid-America Theatre Conference in 2009 and has since been licensed to high schools, colleges, and universities around the country. A graduate of Cornell University's School of Industrial and Labor Relations and Brooklyn Law School, Dan is also an entertainment lawyer who has served as production counsel for feature films and as in-house counsel for NYRA, WRNN-TV, and dGenerate Films where he was Distribution Director and Counsel. He is currently the Director of Legal Education for the National Law Institute, coaches varsity tennis, and chairs the Girls Varsity Tennis Committee for the New York City Athletic Association of Independent Schools (AAIS).
You graduated from Cornell and have a law degree. How did you get involved in writing and acting? Do you have training in any of your creative pursuits, or are you self-taught?
I actually began acting at Cornell, took theatre classes there, acted in local productions (including at the Hangar Theatre), moved to NYC upon graduation to pursue acting, went to law school to have a sensible backup career and, in law school, decided to write legal-themed plays as a fun way of supplementing my study. (My recent projects BLACKACRE and THE REMAINDERMEN are remnants of that practice.) After law school, I completed a certificate program in filmmaking at The New York Film Academy (NYFA) while I was working as in-house counsel and Director of Special Projects at WRNN-TV. At NYFA, I had to write and direct and sometimes act in my own projects — and ever since my first project as a filmmaker, which was a short film called BIRD BOY, I have continued on occasion to write, direct, and act in my own projects. Later, while still at WRNN-TV, I enrolled in (and later graduated from) The American Academy of Dramatic Arts (which, at the time, had an evening conservatory program) to further my training as an actor.
You've acted in several music videos. How did you get selected for these projects?
I think I have to thank rap/hip-hop artist Fabolous for that. Because ever since I appeared in his video for the song TONIGHT, the floodgates opened in terms of me being featured in other music videos of the genre (including opposite Lil' Kim in a song called JAY-Z, and, most recently, opposite R. Kelly in an upcoming new track from his album "Black Panties"). I also got to cross over genres to star in Moby's official music video for THE RIGHT THING.
On the creative side, how do you choose your projects? How do you choose between writing and acting?
I generally look for projects with three-dimensional characters. For example, is the character flawed? Does he make a genuine connection with someone else in the play? Does he have the capacity to change? These are the sort of roles that I'm artistically drawn to. But sometimes there are just people and/or companies I want to work with. As between acting and writing, I tend to prefer acting because there you get to improvise with other people, whereas in writing, you're improvising with yourself.
How, if at all, has being Asian-American impacted your creative career?
Well, I think there are generally fewer opportunities for Asian-Americans in this industry (at least in front of the camera). There's simply not much written for us, and so my career strategy has to be to submit for every role I reasonably think I could play and hope that one casting director or producer in ten will think outside the box and consider casting non-traditionally. This reality has helped me make bolder choices in my auditions and not take things as personally if I'm not cast.
You're an actor, playwright, lawyer, and high school varsity tennis coach. What does a typical day/ week look like for you? What time management tips can you share?
I build my schedule around meetings. Commitments that involve other people come first and then work that I can do on my own gets done during the midnight hours, at home, or remotely, or whenever/wherever I'm on my own. Deadlines are based on my next appointments with the people involved in that project. This keeps me accountable, organized, and motivated.
You seem to balance both business and creative. What advice do you have for readers who want to do what you're doing?
Never pigeon-hole yourself. You have enough people out there trying to do that to you. With casting, as with any employer, there will always be those who think you have no business interviewing, auditioning, or trying out for a part, but all you need is one person to believe in you and give you a chance. And then the best thing you can do for them in return is to justify their belief in you by graciously accepting the role, doing the best you can with the opportunity, and always being professional.
What's next for you, either business-wise or creatively? What's the best way for people to learn more?
Next for me is really to do more leading roles in features and/or television. I keep doing shorts and student projects because that's what my schedule allows right now, but I don't want Broadway and Hollywood to think that that's all I'm capable of. For more information about me, please visit my website at www.DramaLaw.com. Am also on Facebook and Twitter @DramaLaw