Tory Kittles is an American actor, writer and producer. He's appeared in films such as Get Rich Or Die Trying, Next, Miracle at S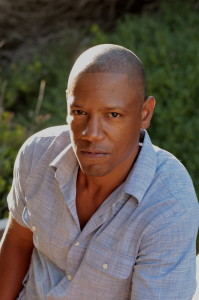 t. Anna and Lifetime's Steel Magnolias for which he is currently nominated for an NAACP award for his performance as Jackson. Kittles also had a stint on the hit series Sons of Anarchy as the character Laroy and has appeared on stage in NY, LA and Atlanta in several productions, most recently in Guess Who's Coming To Dinner, with Tony Award winner Phylicia Rashad, directed by Broadway's Kenny Leon. Kittles can be seen in The Weinstein Co's The Sapphires (Cannes 2012) and Antoine Fuqua's Olympus Has Fallen this coming March.
I met Tory "virtually" on Twitter when I posted about how much I enjoyed the creature feature, Frankenfish, and Kittles' turn as the lead and hero. It's not often you see an African-American actor playing a lead role that could be a character of any ethnicity, and Kittles carried that movie. So I was ecstatic when Tory agreed to share his insights with FBC Films:
You were a lover of movies since childhood. What is it about acting that made you make your career here?
Yes I fell in love with the movies at a young age, though I didn't put too much thought into it becoming my career early on. I was in college at the time, and I kept changing my major, because I wasn't sure about any of the things I was studying. Then one day, while looking for a job, I noticed an add that said, "actors, models, extras" and gave a call to the number. Shortly after, I found myself on the set of the Keenan and Kel show as an extra, and something in me clicked, and I just knew.
What are you currently working on?
I have a few things that I'm working on currently, but I can be seen this upcoming March 22nd in the Internationally acclaimed hit The Sapphires and also in Antoine Fuqua's action thriller Olympus Has Fallen which hits theaters in March as well.
You also composed a song for Tigerland, an early movie of yours. Are you still active in music? Any interest in other arts or in going behind the camera?
I did compose a song for Tigerland, yes, that was also my first film. I've always been a writer, still am, I have a few writing projects that I'm working on now.
As an actor, how do you decide what projects to take?
I think in terms of choosing something, it always begins with the script, but even if it's a great script, sometimes I have to discern whether or not it's for me. I think that's been part of my maturation process…When you first start out, you want and think that you can do everything, but the more you learn about yourself, the more specific you become, so the more specific your choices do also.
I loved you in Frankenfish. How did that come about? Do you have an affinity for sci fi/ horror specifically?
Thank you. Wow. That was ages ago. At the time it was called The Bayou, and I went in to audition and they hired me. It was simple really. Though I wish they would've told me that they planned to change the title. Ha. As far as having an affinity for Sci-Fi…I enjoy it, but I have an appreciation for all genres of film, so I don't try to get locked into one area…I like to do the things that I like to see.
How has the industry changed over the years?  Are you seeing diversity casting improve over time?
I think the industry is constantly changing — it's become more interactive,for instance, ten years ago you wouldn't have been able to connect with me for this interview as easily as we have. Twitter has opened all avenues, and as far as diversity, yeah, sure, I think it's becoming more so.
What advice would you give an aspiring actor?  What do you know now that you wished you knew when you started?
Hmm….Joel Schumacher once told me to "trust your own instincts". I think that's the best advice anyone can give.
What I wish I knew then…..there are no do overs. Make the moments count.
Tell us something fun about Tory that's not obvious from your resume!
Ha. If it's not on the resume….yeah…there's a reason for that!