I had the privilege to work directly with Liz as she cast our upcoming project, The Battle Below. A veteran casting director and indie film producer, Liz graciously shared her story and her thoughts on the creative and the business sides of this industry: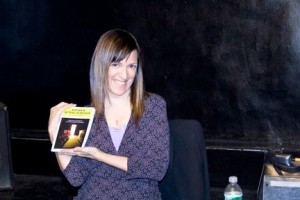 How did you come to casting?  What are your favorite types of projects or roles to cast?
I came to casting as a progression of my background as a manager, bi-coastal talent agent & stage director, those skill sets plus good instincts led to this being a good fit for me. In the late 90's I was working for the former Non-Traditional Casting Project now known as The Alliance for Inclusion for the Arts. This non-for profit advocacy organization assisted producers & casting directors to diversify their casts. Pretty soon I was requested to cast independently. I was ready to start a business and my family (I was pregnant at the time with my almost 14 year old) so I took the plunge and started Casting Solutions.
You bill yourself as "an avid supporter of diversity in casting". How have you seen diversity casting trend/ improve/ change over your years in the business?
I've seen the diversity casting trend/ improve and change in the years I've been in business.  It has definitely grown as a reflection of today's "politically correct" culture. Having Obama in office catalyzed more projects seeking diversity. Early on I was one of the few to point out the relevance of inclusiveness in the casting arena. I was and still am pointing out that this not only means actors of color but also of mixed abilities (why not hire an actor who actually is a wheel chair user). The positive change in recent years is less resistance from clients as they are embracing the trends.
You run your own business. How do you balance the creative demands of the entertainment industry (a seemingly subjective, unpredictable industry) with the strategic/ analytical demands of entrepreneurship (making a profit, managing your time)?
I balance the creative demands of the entertainment industry by being very clear about what resonates for me. As an independent, I knew I had to respect the system yet operate outside of it.  I  choose projects based on what I call the 5 P's: 1) The Project, meaning the script, to me the writing is everything, 2) The People, are the people involved those I'd like to work with, 3) The Production Value,  I never judge a project by it's budget, 4) The Part, what role will I have, am I casting and/or producing? 5) The Pay, sometimes a low budget  project pays high end dividends such as success and exposure in the festival circuit.
As an entrepreneur being relevant in the market place, knowing how to capitalize on your skills and time management are critical. I wrote a book about auditioning "Ace Your Acting Audition", I teach workshops, am a faculty member & consultant all drawn from skill sets developed by experience and longevity.
As someone who started a business in 1998 while pregnant and adopting an infant in 2004, time management is instinctive and critical to success, I never put anything off and treat every client as if they're my only one.
What do you know now about making a successful living in entertainment that you wished you knew when you started?
A lot of things, as I've been working in entertainment since  my early 20's. The main thing would be that success is built on failure and mistakes are not the end of the world, it's how to learn and grow if handled honestly and gracefully. Also to not be intimated by others, we are all vulnerable human beings, some are just better at wearing their poker face.
What are you working on now, in the next year that we should know about?
I just finished casting the web series "The Battle Below" for FBC Films! (Caroline's note: Thanks for the shout-out, LizJ) I'm working with a production company in Italy casting a horror feature called "Alter-Ego" as a producer with I Ain't Playin Films, we have a few features in various stages of development and I'm working on the second edition of Ace Your Acting Audition, which will available in paper back and Kindle.
LIZ ORTIZ-MACKES is the Owner of Casting Solutions and I Ain't Playin' Films. She is a casting director and indie film producer credited on projects which have screened at hundreds of US and International film festivals including: Sundance, Toronto, Palm Springs, HBO Latino, Urban World, Slam Dance, Berlin, Hamptons, South Africa, Costa Rica, Martha's Vineyard, Hamptons, Famous Monsters of Film Land to name a few, and have aired on HBO, Showtime and Cinemax. Liz is the author of the highly acclaimed book "Ace Your Acting Audition," published by S.O.M.E. productions and is currently on the faculty of the American Academy of Dramatic Arts, New York Film Academy, the Performing Option and conducts ongoing workshops for the Screen Actors Guild Foundation.