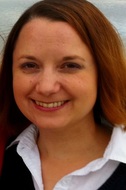 Kelly Timpane is the co-founder of Endlight Entertainment LLC and an Executive Producer of
Ninjas v. Zombies
(2008), 
Ninjas v. Vampires
(2010), and the upcoming 
Ninjas  v. Monsters
. By day, she is also an HR executive.
---
How did you get involved with producing?  What is your role specifically?
Those are both great questions Caroline, thanks. I got involved through my husband, Justin, although I had worked for a couple of years  behind the scenes and onstage for Paramount Parks.  Justin has been involved in the entertainment industry pretty much his whole life, and a few years ago he decided to take a step back from acting and get behind the camera.  He and our friend, Daniel Ross, decided they would like to make their own movie together instead of acting in other people's movies.  So we formed an LLC – Endlight Entertainment – and Justin started writing. My role is pretty much everything on the "business" side.  Justin and I are co-owners of Endlight Entertainment, but he is definitely the creative side, and I'm the business side.  In my "real life", I am a Human Resources executive, so it was pretty natural for me to step in to the business management side of Endlight.
As Executive Producer on our first two films, my role was pretty much anything that needed to be done on the business or detail-oriented side.  I was involved with casting (we made group decisions on major cast), was a story supervisor and script supervisor, and was the HR and Contracts point-of-contact. That means I put together all the contracts for the actors, crew, musicians licensing agreements, etc. During post-production, my role was often continuity editor and general QA of the film during its rough cuts, and again on the business side – reviewing the terms and conditions of our distribution deals.
You live in DC, so not an obvious filmmaker's choice.  What challenges AND advantages come from working in a"non-traditional" film geography?
You would actually be surprised how much theatre and film there is in the DC area.  Justin has acted with a number of local theatre companies and independent film companies in the area.  But, yes, when you think of filmmaking, Washington DC is not the first place you would consider.  I think the challenges mostly stemmed from how to get the film out there once it was made, since it's not like we could walk down to a studio and pitch them our film (does anyone actually do that?)  And we've had some challenges in that a lot of the contracts we sign on the post-production side are based out of California, so if we ever had a reason to challenge a contract, we would have to dispute it in a California court… but other than that, we mostly saw advantages to filming in a "non-traditional" area.  The market here is saturated with talented actors in Theatre who would love to get into Film.
It's also saturated with people who would love the chance to work (crew) on a film but would not normally have the chance if the film were made in NY, LA, or one of the other "typical" film locations.
What is the inspiration behind the Ninjas theme?  Is it something you personally enjoy?  Did you have a business reason?
I have to chuckle at this question.  Justin really was the one who came up with this idea, along with Daniel Ross.  The story goes that they were walking through a Blockbuster looking for movies and thinking about making a movie themselves –trying to figure out what movie guys like them would want to see that hadn't been made.  One or the other suggested "Ninjas Vs Zombies".  The idea was to appeal to the late-night college crowd who just wanted some combination of comedy, action and horror – a fun ride to experience. So, not that we don't like Ninjas but it wasn't a decision related to our love of a particular genre or character type – it was more a decision to make something fun that hadn't been done before and that was what sprang to mind.
Do you have a desire to do other films or other subjects outside of horror?  How do you decide?
Personally, I would love to see Endlight do a Romantic Comedy, but I don't know if I can convince Justin of that.  We really seem to do well with the Action / Comedy / Horror niche so far, and I think we would want to continue in roughly that same genre mix so that we can continue to keep our fan base that we've gained with Ninjas. We have said that this upcoming film (Ninjas Vs Monsters, the third in the series) will be the final chapter for the Ninjas.
We've been talking a lot about what's next, but haven't made any firm decisions yet. The goal right now is to finish this one and take a couple months off before we start down the path to the next one.
What was the capital-raising process like?  For people who did invest, what was the most attractive reason (e.g., they knew you personally, they were interested in the content)?
Honestly, for the first two films, we funded them entirely out of our own pockets (mostly courtesy of Visa & MasterCard).  That was difficult because it's not like we had lots of extra money just sitting around. But we believed in the projects and wanted to get them made.  For the third film, we did turn to others to raise capital, but did not end up using any "traditional" investors.
We used Kickstarter to raise funds through "crowd funding", which was  pretty cool.  I hadn't heard of the  concept before our Executive Producer (and marketing guru) Daniel Ross brought  it up.  We were deciding between two sites that had similar purpose and ended up going with Kickstarter, and were able to raise enough money to meet our goal.  It was a mix of people who knew us (friends& family), fans from the first film, and just people who heard about our campaign through word of mouth or advertisements we had placed.
What financing routes did you consider/ try (e.g., crowd funding, friends & family, formal investors, festivals)?  Which were the most fruitful and what advice would you give aspiring indie filmmakers looking to finance their film?
We really have not explored much in terms of outside financing at this point.  My preference is to keep it simple and either fund it ourselves, or use a crowd funding site like Kickstarter.  Formal investors can be a great thing, but we didn't want to over complicate things for our first few films.  Of the three films, having financed the first two ourselves and the third almost entirely via donations on Kickstarter, I definitely prefer when other people pay for it!  And it's still a good deal for the people who donate, because they get to be a part of the filmmaking process, and they get something out of it. For our Kickstarter campaign, depending on the donation amount, we offered memorabilia from the first two films, signed copies of the first films, walk-on roles in the movie, original artwork, or even executive producer credit for the large donations.
How did each movie in the franchise improve over the earlier (either creatively or production-wise)?  How has your role evolved?
As with most things, the more time we have spent on the franchise, the better it's become.  Justin has become a better writer with each movie, and a better director, and he's also become better at delegating things to other people and not having to do everything himself.  That's been a big plus for me, since it means I get more time with my husband and the kids get more time with dad.
Honestly, the progress from  the first film to the second was definitely noticeable.  But the improvements from the second film to the third and final film (Ninjas Vs Monsters) are astronomical!  Creatively, the characters have come so far from where they first started. The story has gotten darker, funnier, more action-packed and is just an exponentially more fun ride as a whole.
Production-wise, the visual look and feel and the overall quality of the practical and digital effects in the films have improved by leaps and bounds each time, and are just mind-blowingly good in this final film, thanks in part to better equipment, but also just as a natural progression of the whole crew getting more experience.  In fact, many members of our crew have been tapped to work on other productions in the area, which just adds more experience under their belt and gives us more filmmakers and actors to network with when making the next film.  You'll have to watch each of the movies, and then come to the Premiere of Monsters next month to judge for yourself!
What do you know now that you wished you knew when you started?  What advice overall would you give to aspiring filmmakers?
We know a lot more about networking and about finding great locations now.  I wish we had known how to find those connections earlier on, because the first movie could have had way cooler locations than our house and the woods.  And let me tell you, getting zombie blood out of the carpet is no easy feat!  We did have nice locations at a local movie theater and at a local comic shop in the first movie, but we've gotten some really awesome looking shots in the second and third films thanks to some incredible locations.  The local film office was helpful in finding places that are open to filmmakers, but  really most of the locations were through networking – a friend of a friend has a place, etc.
Overall, my advice to aspiring filmmakers would be to just go for it.  If you're passionate about making a film and you have an idea for something you would like to see made – go do it.  Understand that it takes a lot of work, and that not everyone will love it – but even if it doesn't win a Best Picture at the Oscars, you still made something, and not everyone can say that.
What's next for you?  For the Ninjas franchise?
The first two Ninjas movies (Ninjas Vs Zombies and Ninjas Vs Vampires) are in distribution now on DVD and digitally. We are proud to announce that the third and final installment (Ninjas Vs Monsters) will have its World Premiere on October 14, during the 2012 Spooky Film Fest at the AFI Theater in Silver Spring, MD.  More information about the Spooky Film Fest can be found at www.spookyfest.com.
After the premiere, we intend to take some time marketing the final film and getting it out there to the fans through as many distribution channels as  possible. Although we are finished with the films, I don't think the Ninjas universe will be going away anytime soon. We have comic book deals for the first two films already as well as other mediums in development.
Up next for me?  More sleep. I hope. Up next for Ninjas?  Maybe Ninjas vs. Evil HR Directors?  You never know…
For anyone who wants to stay up-to-date on the progress of the Ninjas franchise, you can visit our websites at www.nvzmovie.com,www.ninjasvsvampires.com, or www.ninjasvs.com.  We are also on facebook, twitter (@NinjasVs and @KellyEndlight), and oh yeah, we also have a podcast network – although it's definitely NSFW.  Check out geeksradio.com or lookup "geeksradio" on iTunes.  Thanks!