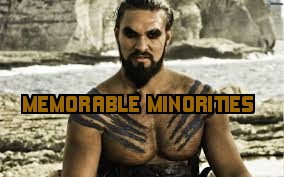 Our tagline at FBC Films is:
Can you imagine The Lord of the Rings with some Blacks and Asians? We can.
Snappy, right? Well, instead of just complaining about the lack of color in Sci Fi and fantasy we've decided to do something about it, with your help. Hence, Memorable Minorities! A collection of skits we will shoot and air on our YouTube channel. If you can't give $, we get it- please let others know about memorable Minorities!
(Visit our Indiegogo page, and help us get started!)
Bruce Faulk rewrote a scene from Game of Thrones where a Colorized version of Tywin and Jaime Lannister work to resurrect Khal because he was the only non white major character for soooo long. (By Colorized we mean black and Asian folks playing the Lannisters.)
Melody Cooper wrote "A Walk Through the Museum." It's the future, the capital of the world is Johannesburg and our hosts give us a tour of racial archetypes in movies from the past. Step N' Chris Tucker in The Fifth Element, Klingons & Whoopie in Next Gen Star Trek- you get the idea.
If we hit our goal we can shoot these two. If we go over we can shoot more! And we have some great ideas like two Black gals in that first scary scene of The Ring. And of course, The Lord of The Rings movies. It's amazing that there are four films totaling about 37 hours of screen time, and not one non-white character who isn't an Orc. Not a one.
Join us- Memorable Minorities will be funny, biting at times, nostalgic at others and definitely something you haven't seen before. Visit our Indiegogo page, and help us get started!