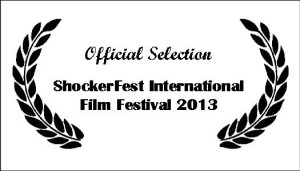 MORE GREAT NEWS! The Battle Below will be screening at Shockerfest 2013. ShockerFest International Film Festival 2013 will be broadcast on the internet TV station CVML-TV and simulcast on www.shockerfest.net from October 15 – 31st. We're in the Horror – Shorts category and will be screened multiple times during that two-week period. Currently, we are scheduled for screenings on:
October 15
October 21
October 26
All screenings run continuously starting at 7p. Our film is 11 minutes.
We have a chance to win an Audience Favorite, and voting starts on October 15, so we'll be reaching out again when the link is live.