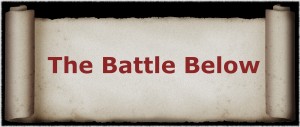 GREAT NEWS! The Battle Below has been selected to screen at the NYC Downtown Short Film Festival on Wed, October 16, 8p, DMAC, 62 East 4th Street. The official announcement is copied below.
If you're in NYC, come to the screening and vote! Tell your family and friends. Share on Facebook and Twitter. Tickets are $10 in advance and can be purchased on Smarttix. It's only an 80-person theatre so tickets will sell out.
Bruce and I already have our tickets so let us know if you're coming so we can look for you!
10th NYC Downtown Short Film Festival
Audience Choice Screenings
September 21, 2013
DMAC-Duo Multicultural Arts Center
62 East 4th Street
East Village, NYC, USA
Tickets $10 at  Smarttix
Dear Film Maker:
We are very pleased to tell you that your film will be screened at one of the 10th NYC Downtown Short Film Festival Audience Choice Screenings taking place October 16-17-18. 2013 at 8 PM.
To refresh your memory about our festival, we hold screenings throughout the year at which the audience is screened 4-5 films, given ballots and votes, those films that receive the highest votes at these screenings will then be screened at our annual Festival in April  2014.  Please be assured that if you cannot attend your screening, the audience will give your film equal consideration. At each screening it is possible that the audiences vote every film highly and it advances to the festival.
Even though our screenings are generally sold out in advance we need your help and support in making them a success. If you have any actors/crew members/friends/family in the NYC area who may want to attend to support your film we highly recommend that they purchase tickets in advance as we seldom have tickets left for sale at the door.Tickets are $10 at the Smarttix site and $15.00 at the door if they are available.  Tickets are now on sale. For the complete film schedule and to purchase tickets please go to: Smarttix
Due to the size of our screening room, 80 seat,  we can only offer each film 1 complimentary ticket.  Please let us know as soon as you can the name of the person will be representing your film at the screening.
Please feel free to email us with any questions.  Unless we ask for it, the screener you submitted is what we will use.  We do not need any other promotional materials for this screening.
The films we have chosen are of the highest caliber. We are most happy to show them to NYC.
Again, thank you for your hard work. We look forward to meeting you at the screening.
Upon receipt, please confirm that you have received this email. We need confirmation or we will have to replace your film. Your support is vital to make these screenings a success.
Best,
Michelangelo Alasa'
Luke Valerio
NYC Downtown Short Film Festival
www.duotheater.org
Film Schedule:
Wednesday October 16 8 PM
Battle Below Directed by Bruce Faulk (Drama)A teacher returns to where he grew up, only to find that everything has changed. The projects are giving way to Whole Foods. The rents are insane. Kids are fighting in the hood with swords and axes….Wait, swords and axes?