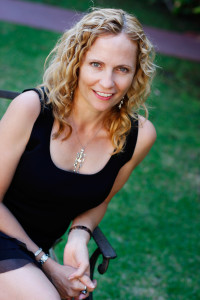 Denise moved to Los Angeles from Orlando, FL. Denise has been in the entertainment business for more than 20 years primarily as an actress. She can be seen in the latest Mel Gibson movie "Get the Gringo" AKA "How I Spent My Summer Vacation," "The Last Ride" with Dennis Hopper and on such tv shows as "The Office", "The New Adventures of Old Christine", "Samantha Who?", "Veronica Mars","Fashion House", "Believers Among Us", "Superboy","Guilty Or Innocent", "The Life of Tonya Harding", "What Should You Do?", a recurring role on "Zoey 101", "Drake & Josh", "Born on a Bad Day", "I Didn't Know I Was Pregnant", "Untold Stories of the E.R", The Michael Jackson Trial on E!", "Scene of the Crime", and "The Great Imposter". Denise has also had lead roles in many feature films.
Denise is the Founder and Director of the Shriekfest Film Festival & Screenplay Competition, now in its 13th year. Shriekfest has been consistently cited as a leading festival, including an LA Weekly mention as "LA's most successful and entertaining horror film festival. Denise started this film festival after starring in the horror film "Chain of Souls".
As an actor you migrated from drama and comedy in theatre to horror in film. What was the biggest adjustment, if any, that you had to make when switching genres and mediums?
Honestly, not much.  If you play the truth of a role, it really doesn't matter the situation or the genre.    At least that's what works for me.  I have done a few horror films, but really not as many as you'd think.   I think people just think that because of Shriekfest.  My latest large role was in the Mel Gibson movie Get the Gringo.
Why did you start a film festival? Why a horror film festival specifically?
LOL…good question.   Actually I had starred in a horror film and I really wanted it out there and was telling the producer and director to submit to fests and that's when they told me there weren't any fests that catered to the horror genre.  I started checking around and that's how I came up with the idea.  A silly little idea led to a festival that is currently in it's 13th year and gets submissions from all over the world.  Such a shock to me.    It has been a great ride.
What catches your attention when you review films for your festival?
Story above all, there are too many films that don't focus on a story.  Production value is important too.  Get good quality actors, good sound, good camera's, lighting….a film really is a big package and if it's missing any of these key elements it can ruin the whole film….especially in competitions.  There really is a TON of competition out there.    Also, editing….just because you shot it does NOT mean you need to use it…this is the biggest problem we see coming through Shriekfest…some films are just not tight.  If it doesn't move the story along, cut it out.    Some features would be better as really tight shorts.  Have lots of people watch them and take advice, not just your friends or family.
What advice do you have for filmmakers/ producers hoping to attract attention to their film? 
As far as attracting attention to your films…use social media. With all of the social media these days it is very easy to develop a fan base and get the word out about your film….you have to create the hype and horror fans are extremely loyal.  Once they are fans, you have them for life.  ….just remember social media is about give and take….if all you do is post stuff about you or your project, people will tire of it quickly.  Repost things for friends, comment on other's successes…share their pages.   Get your trailers on youtube….use facebook, twitter…it is a MUST in today's world.
You've been running the festival for 13 years. Of your top 3 favorite entries ever (you don't have to tell me which ones they are, unless you want to), what makes them your favorite?
Story…it's usually a complete package like I said earlier.  It's not the budget that does it for me, I've seen plenty of films that look large or are large and they just don't have it.  It's the story, the acting, the editing, simple story telling….no fluff.  Those are the ones I love.
You juggle both producing the festival and acting. How do you decide which projects to pursue and what goals to set in your different career areas?
Well, it is extremely hard, let me tell you.  For acting, the role has to speak to me and that is why I haven't picked my next project yet….I've read quite a few scripts and they just aren't me.
For Shriekfest, goals are based on what is best for the festival and what will help get the word out about the filmmakers and screenwriters.  Shriekfest Radio was created to help people learn and to give extra publicity for these talented filmmakers/screenwriters.  It's all about promoting them, not us.
What are your favorite time management tips as you juggle among producing, acting, and your interests in animal and children's charities? 
Well, I'm kinda a workaholic.  I enjoy it.  On my computer, at all times, I have 30 windows open, I can go from window to window with ease and work.  So, that would be all the social media tabs, mine and Shriekfest, of course emails, acting submission sites, youtube, whatever I may be working on…right now the schedule is one of them…the placement of the films for this year's fest.  So, I multi task like crazy and when I get overwhelmed and I do, I break things down into baby steps.  I have calendars with jobs listed on them to be done daily.  If there is a task I am dreading, I really break it down and before I know it it's completed.  We can't get overwhelmed pursuing our dreams, you have to find tricks to help you through it….
You are a fan of The Secret and The Law of Attraction (as a life and career coach, so am I). How has this impacted your life and career?
Nice!  I love that.  I'd love to hear more about your coaching.  Always positive thinking, always surround myself with positive people.    If there are negative situations or people in my life, I get them out.  Life is too precious to deal with that stuff, it will only bring you down.    You have to believe, truly believe and then work your butt off in the direction you want.  If you have a rough day, change that energy quickly before it affects your entire day.
You have managed to make a living out of your art. What do you know now that you wished you knew when you started? What advice would you give your 18-year old self? 
I probably would have only done 2 years of college and moved to LA sooner to start acting.  I wouldn't have joined S.A.G right away, I would've filled my resume with more non union work before I joined.  And I would tell myself it's not that important…not everything is so important…trust, let it happen.
Shriekfest is in its 13th year and runs October 3-6, 2013. For more information, click here for the Shriekfest 2013 schedule.