A. Benton Greene was born the son of Jamaican and Barbadian immigrants, Carol and Arthur Greene on December 14, 1972. He trained as an actor/director in high school, appearing on the longest running high school TV program, Just For You. He continued training throughout college in San Diego and went on to start his professional career in San Francisco. He currently lives in Harlem, New York. He is an avid martial artist who teaches and practices Wing Chun Kung-Fu daily.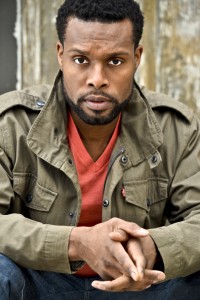 You were an actor as early as HS. Did you always know you wanted to be in entertainment?
I remember watching old movies with my family as a kid; Uptown Saturday Night, the Bond movies with Connery and Moore and just going into a trance. I didn't know how but I knew I wanted to be a part of that…And Billy Dee Williams in The Empire Strikes Back! Very cool. I was also lucky enough to grow up in New York when theater was affordable and my parents took us to Broadway shows whenever they could. That had a major influence on me.
You also have worked as a director, writer, producer, and editor. Are you migrating to behind the camera?
I did both throughout high school and got post-production certification (FinalCut, Avid) when I was pretty young so I could always have a foot in that door. Since then, I've shot a couple of shorts, a bunch of videos for different organizations, www.ficanewyork.org/media/videos/,  and directed a crazy web series last year, www.makelovejackson.com. I've been getting my toes wet without breaking the bank or doing the Kickstarter/Indiegogo thing before I had a better sense of what I was doing. The more I define what's important to me as a man, the stronger I'm drawn to telling stories that broaden the expectations and re-evaluate the limitations of people of color.
What are you working on outside of The Battle Below?
I have a few projects in different stages of development right now. There's a feature that I'm writing that's an urban technology drama…if that's a genre. And filmmaker Malcolm Murray asked me to come aboard his historical feature with a fantasy twist that's set in Jamaica. I'm really excited about both projects because they're original stories that I think haven't been done before.
You're an avid martial artist. What is it about the martial arts, as opposed to other forms of exercise or sport, that appeals to you? 
Kung-Fu has been a big part of my life for a long time. It's mental and physical exercise, it's meditation and it's not a bad thing to know how to use your hands as a New Yorker. Martial artists tend to be really family oriented which works for me too. I have martial arts brothers I haven't seen in years but we can get together today with our families and catch up like no time has passed.
How has the industry changed over the years?  FBC Films focuses on multicultural casting within the sci fi/ horror genres.  Are you seeing this improve over time?
Wow, the industry has changed completely since I first started. I came out of school right when the reality tv trend was starting. I think that that race to the bottom in terms of producing profitable shows on the cheap has been one of the most major changes in tv history. On the other hand I couldn't ask to live in a better time than now with digital filmmaking being what it is. Really high quality movies are being made all over the world for a fraction of the price they would've cost just five years ago. I think storytelling is being rewarded again not just big, flashy flicks with high production value and that's very exciting.
I love what you all are doing at FBC Films. Everything is so visually oriented today that it's more important than ever to see multiculturism in films. I look forward to the day when we're no longer surprised when we see ourselves being portrayed honestly.
Tell us something fun about Benton that's not obvious from your resume!
I don't know, I'm terrible at these kind of questions. I love pranks and have to keep it together when on set or backstage. I was playing Carbon, an Army Captain, in a production of Cyrano at a large regional theater and had a scene where I was showing my men a map and have this speech, blah, blah, blah. So one night deep in the run I tape a nude centerfold on the map and use it during the scene. Thee poor guys were doing everything in their power to keep it together on stage. 🙂